Monitoring, measurement technology and development
RED Bernard provides engineering services in the specialist areas of structural health monitoring, measurement technology, dynamics and mechanical engineering. We are also active in research and development and this know-how is the basis for our project work. Our clients include public and private companies in the fields of infrastructure (road, rail), energy, industry and commerce. Through interdisciplinary cooperation within the BERNARD Group, we achieve a high level of quality for our services. The range of services extends from conception, realisation and implementation to operation – with the aim of realising optimised solutions for our customers.
Portfolio
Structural health monitoring and measurement technology
Civil structures for transport infrastructure, such as bridges, tunnels, and retaining walls, are currently subjected to two highly contradictory trends: On the one hand, these structures are getting older, and, at the same time, the load is constantly increasing. To guarantee the safety of the structures, decisions on maintenance measures must be taken. Measurement results from monitoring systems, which are individually designed, configured, implemented and also operated by RED Bernard GmbH, provide the basis for these decisions. The analysis of the measurement results and further consulting are part of our core competencies. A measuring or monitoring system can be installed on a purchase or rental basis. At the Client's request, we create measurement software with evaluation and interpretation of the measurement data and transmit it via SMS, email or a website. In principle, our systems can be used for temporary or permanent measurements.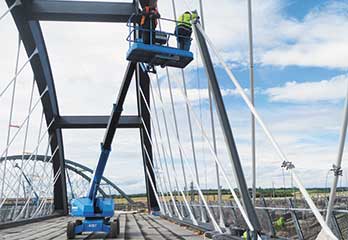 Dynamics
We provide qualified solutions to vibration and resonance problems in construction and mechanical engineering. Induced vibrations at buildings, machines and bridges caused by human beings, wind, waves, machine operation, traffic, earthquakes and other impacts are measured and numerically investigated using 3D computer models. With measurement results obtained from a real object, model adjustments are carried out and then different measures are simulated on the realistic computer model and evaluated for their effectiveness. Vibration damping In the vibration damping sector, we offer all engineering services, from design, production and installation, right up to maintenance of vibration damping measures. Besides conventional mass-spring damper absorbers, innovative liquid column dampers in passive and adaptive versions are used. We hold two registered patents in this field. We also design mass-spring systems to reduce vibrations transferred in the sub-soil. By using appropriate vibration-damping measures, the maximum vibration amplitudes resulting from resonance can be reduced by up to 90%.
Research and development
RED Bernard is an independent, scientific research and development company. Our scientific basis is the realization of self-financed and externally funded research projects, as well as the propagation research results by publication and teaching. Contract research and development for industry and commerce is another field of activity for our company. We specialize in structural health monitoring, dynamics, measurement technology and vibration damping in construction and mechanical engineering.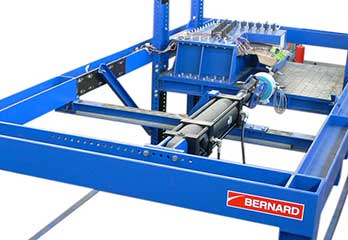 Mechanical engineering
In the field of mechanical engineering, we carry out client-specific engineering services as partial or complete contracts. Our services range from the planning and development to the design of technical functional units or machines, including all design phases from strength calculation to the documentation and CE conformity declaration. For existing machines and systems, we help our clients optimize the design and improve the functionality. On the basis of load measurements, dynamic FEM calculations and lifetime prognoses, improvement or remediation concepts are developed. In addition, we help other companies overcome short-term bottlenecks in 3D and 2D design.
Immission Control
In the field of immission control, we supply client-specific solutions for noise protection and air pollution control. We focus on providing calculations and expert opinions on emissions and immissions related to traffic, commerce, recreation and sports. Our range of services includes feasibility studies, design services, final and permit application design up to the building application and operation. We also carry out permanent noise measurements as part of construction monitoring, local site supervision or monitoring and documentation.
Reference projects include expert opinions in the field of mobility, noise action plans and in-situ measurements on noise barriers as well as special services for construction site operations, beer gardens, parking lots, amusement rides and open-air concerts.
Contact
Downloads
RED Bernard is a Company of the