Nuclear Technology
We provide services for dismantling (decommissioning) of nuclear plants. This includes, for example, studies, approval procedure or structural engineering services as well as project management, cost estimates and recycling concepts for plant parts.
Our clients are primarily disposal companies for nuclear plants.
Our services range from conceptual studies to implementation – with the objective of realizing sustainable solutions professionally. We achieve this through the high quality of our services and the interdisciplinary cooperation within the BERNARD Group. In keeping with our core values, we work professionally, competently and fairly with our partners and clients.
In the field of nuclear technology, BERNARD Group has already successfully completed projects for various clients. On the basis of cooperation agreements with globally operating partner firms and with the establishment of Nuclear Technology within the BERNARD Group specializing in nuclear engineering, we can offer these engineering services on an interdisciplinary basis from a single source.
Portfolio
Decommissioning
Engineering services in the field of decommissioning include, among others:
Studies and concepts
Design of dismantling
Permit application procedures
Structural analyses
Definition of dismantling stages
Design of protective construction measures
Logistics management for storage
Recycling concepts for plant parts
Documentation
Cost estimates, preparation of tender documents
Project management
Supervision of dismantling measures
Radiation protection
Final inspections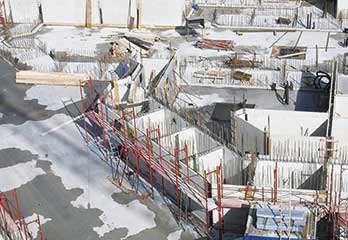 Commissioning
Essentially, the commissioning of nuclear power plants comprises the engineering and testing services in the following areas:
Structural engineering tasks
Building technology (anchor plates, lightning protection, earthing systems, corrosion protection)
Mechanical engineering (design of units and systems, test runs of pumps and motors)
Electrical engineering (switchboards, transformers, control and instrumentation technology, reactor protection, aggregate protection)
Technical building services (lighting system, fire alarm system, emergency lighting, site protection, fence system, cameras)
Trial measurements (pump curves, control loops, optimizations, analyses, pressure and leak tightness)
Documentation (control and instrumentation technology, circuit piping diagrams, isometric drawings, operating manuals, compilation of test instructions, official documents, technical inspection documents)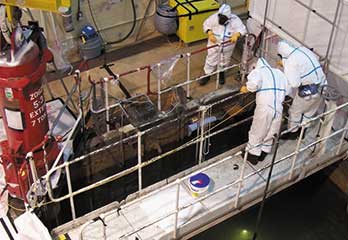 Inspection
We perform recurrent tests and retrofitting of nuclear power plants in the fields of control and instrumentation technology and mechanics – primarily in cooperation with the permanent staff of the respective nuclear power plant.
The main focus of the inspection works is on the checking and calibration of physical sensors, on electronic measurement technology, measurement transformers and limit control charts, as well as on the verification of issue and evaluation systems in the course of the annual recurrent tests required for reactor protection.
Contact
Downloads