Advanced technologies from TEC Bernard
We plan, develop and deliver individual specialized solutions for industry, trade and public clients. We support our clients comprehensively in consulting, planning, design, project management, development, execution as well as implementation and handover on site, services and training.
In addition, we sell our own in-house developed products, for which we also offer delivery, installation, commissioning and individual services. As experts in the fields of measurement and control technology, electronics, electrical engineering, optics, optoelectronics, mechanics, physics and quantum technology, we are innovative and specialized in applications that are about to be launched on the market.
Services
On the basis of the project phases of consulting, planning and project management, we offer the following services after jointly defining the project specifications:
Software/Hardware development
Cost-benefit analyses
Feasibility studies
Proof of concepts
Expert opinions
System or prototype development
Installation and commissioning of the systems
Maintenance, support, data evaluation
Instructions and training courses
Products
BERNARD Mobility Analyser
The BERNARD Mobility Analyser consists of an intelligent optical system for monitoring road users and traffic flow. Information is made available directly on site, no videos are stored. Image processing and anonymous evaluation are performed directly in the camera system:
Intelligent control of traffic infrastructure
Increased safety at pedestrian crossings or school bus stops
Information about free parking spaces on streets or in parking areas
Automated traffic counting for transport planning
Recording of the traffic flow in the local area
People counting for events and shopping malls, as well as customer counting for individual shops
The BERNARD Mobility Analyser is available as a permanent or mobile measuring station. On the client's request, an evaluation and basic determination for transport planning can also be carried out.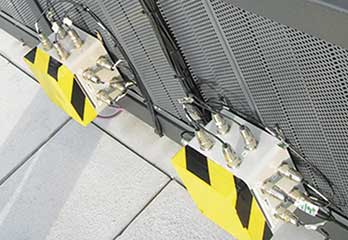 BERNARD Structure Analyser
The BERNARD Structure Analyser consists of an individually developed, configurable monitoring system for the measurement of various physical and chemical quantities:
Strain, vibration, corrosion
Pressure, temperature
Vibrations, crack formation
Gas release
If the limit value is exceeded, an alarm is triggered by call, SMS or email. The BERNARD Structure Analyser is offered as a purchase or lease option. A data analysis can be carried out on the client's request.
BERNARD Technologies GmbH is a member of the

BERNARD Technologies GmbH is an Alliance Partner from: